SCREENING OF "PICKUPS TRICKS" KICKED OFF THE
LOWER WEST SIDE FILM FESTIVAL
APRIL 22, 2005
Film is a rare record of the '70s and
the movement which gave birth to glitter rock.
WHERE AND WHEN:
April 22, 2005 at 7:30pm.
Collective: Unconscious, 279 Church Street (TriBeCa), Manhattan
$15; includes the screening and entry to the opening party at M1-5, at 52 Walker St.
Info: (212) 254.5277; www.lwsff.org. Online ticketing available at www.theatermania.com.
color, 110 minutes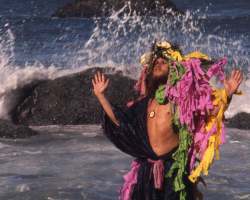 Still from "Pickup's Tricks," directed by Gregory Pickup. Hibiscus at the beach in San Francisco.
"Pickup's Tricks" by Gregory Pickup is a beat documentary of Hibiscus and the Cockettes, who were pioneers of San Francisco's underground queer theater in the early '70s. The film, shot in San Francisco between 1971 and 1973, will be screened April 22, 2005 as the opening event of the Lower West Side Film Festival.
The Lower West Side Film Festival (www.lwsff.org) is produced in conjunction with Collective: Unconscious, 279 Church Street (TriBeCa), one of the last remaining alternative art spaces in Lower Manhattan. The festival focuses on short format, experimental, animation, sexy, and avant-garde film making. Beginning this year as an annual event, it is meant to be welcome contrast to the corporate-style entertainment being promoted by "the neighborhood's more prominent film festival." It hopes to reawaken the artistic spirit of the neighborhood that once inspired some of the most significant artists of our generation. "Pickup's Tricks" will be the only feature-length film shown this year.
Collective: Unconscious is an inclusive, creative community run by a volunteer group of artist/administrators. Its mission is to serve as an incubator for the New York City artistic community by providing an affordable venue for rehearsals and performances, promoting these artists' work, and serving as a technical and administrative resource center. The Lower West Side Film Festival is made possible in part by the Fund for Creative Communities/NYSCA, administered by the Lower Manhattan Cultural Council.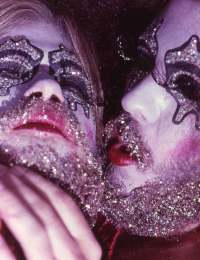 Hibiscus(L) and Angel Jack (R)
"Pickup's Tricks" is an amazing document of the post-Haight era in San Francisco. It is a multifarious blend of sexual anarchy; a raucous and unscripted mix of liberation and elation as rough and spirited as the lifestyle that created it. The film profiles Hibiscus, (George Harris), one of the pioneers of San Francisco's underground queer theater. A founding member of the Cockettes, the psychedelic drag queens that performed midnight musicals at the Palace Theater in San Francisco, he spilt to form the Angels of Light to recapture the essence of free theater.
Allen Ginsberg (R) and unknown actor performing in drag, singing from Blake's "Songs of Innocence," in a free show staged at 330 Grove Street, San Francisco.
The film includes a rare screen appearance of Allen Ginsberg, clean-shaven and costumed in "acute drag" as a Yiddishe Mama with a painted-on third eye. In the sequence, Ginsberg plays the Benares Harmonium and sings from Blake's "Songs of Innocence." The lead song of "Pickup's Tricks" is performed by Country Joe MacDonald. The film is scored by Warren Leslie and Sam Andrew, remnants of super group, Big Brother and the Holding Company.
In the film, Hibiscus, joined by members and friends of the Cockettes and Angels of Light, leads a "pansexual" cast--dressed in robes and glitter--through a series of Bacchanalian-style revels, an extended golden shower, and a crucifixion and resurrection on a cold Easter-time Beach near San Francisco. Its style is sort of like a Visconti version of Satyricon in '70s San Francisco. It is a testament to the acid-filled, post-Haight years--a time that scorned commercial performance venues. Free food, free wine, free drugs and free theater were all mixed in theatrical "happenings" that were performed with masses of volunteers--mascaraed, sequined, feathered, screaming, possessed adolescents. "Pickup's Tricks" is a rare record of those crazed years and of the movement which gave birth to glitter rock.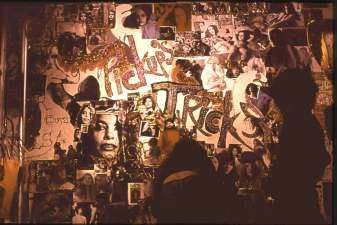 Set built at 330 Grove Street
for titles of "Pickup's Tricks"
Beside its seaside crucifixion-and-resurrection play, "Pickup's Tricks" depicts a series of free shows Hibiscus organized at 330 Grove Street, a city owned warehouse that was run by United Projects an African American empowerment organization. Black rights and gay rights went hand in hand at this legendary warehouse, where the creatures of the underground worked and partied. Director Gregory Pickup lived there and shot this film as the thesis for his degree from the San Francisco Art Institute. Gregory Sherman produced it and was its principal technician.
Gregory Pickup is a visual artist now living and working in Chicago. His work can be seen at www.multifarious.com. He was studying film making at the San Francisco Art Institute in 1971 when he met Hibiscus. He made "Pickup's Tricks" as his undergraduate thesis project. The title used the word "tricks" to suggest shamanistic transformations (combined with Gregory's last name, a common surname in England). "Pickup's Tricks" was screened in the early '70s in midnight shows in Portland and San Francisco, attracting capacity crowds. Audiences who came to buy tickets to its 1973 opening at the Palace Theater were attacked by screeching Angels of Light, who objected to the film being shown commercially. Perhaps this contributed to the fact that the film did not achieve distribution in its time, although it fell (loosely) into the genre of Andy Warhol's films, which were commercially successful arthouse fare at the time.
The film was never shown in New York until 1995, when Anthology Film Archives requested it for a special benefit. A fading print was found for the event; at that screening, Allen Ginsberg introduced the film with a lengthy explanation on its people and times. For the present screening, the film has been recreated from its original source footage.
Hibiscus, a.k.a. George Harris, came from a theatrical family. As a child in Florida, his first theater was an open garage. In the late '60s in New York, he appeared with his family in many popular Village shows. Ellen Stewart created a children's company at La MaMa for George and his siblings to work in, on the condition that they write their own plays and build their own sets. Off-Broadway, he appeared in "Peace Creeps" with James Earl Jones and Al Pacino (New Dramatists, 1966) and "Gorilla Queen" with Ron Tavel (Judson Poets Theater and Martinique Theater, 1967).
Among the many images of George Harris that remain frozen in the American mind is the famed photo of a young man in a roll-neck sweater, placing flowers in the barrels of National Guard rifles during an antiwar protest outside the Pentagon in 1967.
Later that year, he traveled to San Francisco, accompanied by Irving Rosenthal (author of the homoerotic novel "Sheeper") and beat poet Peter Orlovsky, where he underwent a drastic change in both appearance and temperament. Inspired by an image in a Cocteau novel, the shy, pensive, close-cropped boy re-cast himself as Hibiscus and began wandering the streets barefoot, long-haired and bearded, clad in old dresses and abandoned robes--the waste of a society mirrored in his attire. It was a supreme act of theater. He did not regard himself as a transvestite, but as an exemplar of eastern societies wherein males display gaudy dress. Throughout this period, he maintained what was described as "a complete amoral innocence in situations others might consider depraved." His figure, and the street theater "happenings" he organized, inspired the coalescing of a band of street performers called the Cockettes, a bizarre melange of freaks emerged from the ashes of Haight Ashbury and its accompanying myth.
The Cockettes had pushed their lifestyle far beyond their peers: radical politics and liberation movements somehow seemed irrelevant--they were liberated, and they celebrated that fact. When the Cockettes first rushed the stage at the Palace in January 1970, the audience witnessed an explosion of raw sexual energy, propelled by a manic belief in the humor of the ridiculous, the bizarre, anything that would twist, change, or confuse previously accepted norms. Spontaneous, off-key, and utterly disorganized, they nevertheless communicated a total sense of joy, foolish, innocent and totally outrageous. Hibiscus constantly drew new people off the street, many of whom have never been on stage before, for a succession of cabarets, most of which were filmed for this production.
The Cockettes' first film, "Tricia's Wedding," a spoof on the White House event involving President Nixon's daughter, was a short, l5minute film, made for $5,000. It returned the figure the first weekend it played and was subsequently bought by Grove Press and distributed nationally. A black and white film of a Halloween show, even without sync sound, was also been purchased by Grove Press.
Although it was sensational, the phenomenon was not long-lived. The Cockettes split in 1974, owing to the rising tide of jealousy among some of its more commercially minded members against Hibiscus. The true believers in free performances continued on as The Angels of Light. Hibiscus eventually returned to New York. Hibiscus, Jack Coe and Hibiscus' three blonde bombshell sisters played as a live opening act for "Ladies and Gentlemen, The Rolling Stones" at the Ziegfeld Theater. Subsequently, Hibiscus went to Europe three times in show tours with his family. In New York, he wrote and directed "Angels of Light" at Theater for the New City and "Sky High" at the Players Theater. Around 1979, he attempted to reinvent himself in the rock world with a new group, The Screaming Violets, featuring himself and his three sisters in arrangements by his brother, Fred. His last theatrical work was "Tinseltown Tirade" with Holly Woodlawn (Theater for the New City, 1982).
In August, 2003, Horacio Silva wrote in the 60th Anniversary Issue of Fashions of the Times, "His psychedelic brand of pansexual pastiche…has never been more fashionable." The article traced Hibiscus' influence on makeup and clothes offered by contemporary designers like Viktor & Rolf, John Galliano and Christian Dior.
Hibiscus died of AIDS in 1982, one of the first people to die in the epidemic. Many of the other performers of this film met a similar fate. The warehouse at 330 Grove Street is now part of the San Francisco Opera complex.